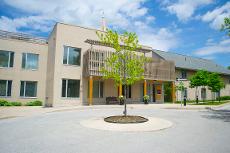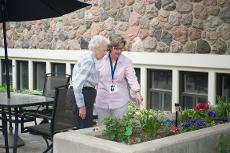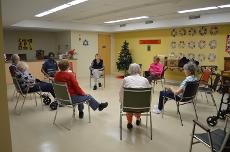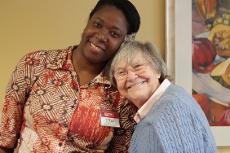 At Cedarhurst Dementia Care Home, we believe it's possible to provide a
high quality of life
for people living with dementia
Welcome to Cedarhurst Dementia Care Home
Cedarhurst Dementia Care Home is a small and secure residence for people who have mild to moderate dementia, including Alzheimer's disease. We offer care for a maximum of 26 residents. Each section in the home has six residents sharing their own kitchen and dining area, with a dedicated personal support worker. The strong caregiving support within each small group allows residents the comfort of their routines plus the opportunity to enjoy flexibility in their day-to-day activities.
Our goal is to provide a nurturing home-like environment, engaging residents through creative, stimulating and meaningful activities that suit each individual's needs and abilities. Cedarhurst Dementia Care Home is different from most retirement homes and nursing homes in that we do not provide dementia care as an add-on to a more general business. Because we specialize in caring for those with dementia, and our home was built specifically for this population, we are ideally suited to manage their unique challenges.
Small Living Spaces - Our small home-like setting features only 26 people living in four separate units. Six residents share a unit, and each unit has six private bedrooms plus a common sitting area, dining room and kitchen; a dedicated personal support worker serves these six residents.

Dementia Specialists - We specialize in providing a secure and caring home for people living with mild to moderate dementia, including Alzheimer's disease. All of our staff are fully engaged in serving this population.
Flexible - Our routines, including breakfast time, bath time and bed time, are flexible in order to accommodate the needs and desires of our residents.

Individual care - Our philosophy of care is holistic and individualistic. We build on each resident's strengths and interests, and we encourage choice in daily activities to promote autonomy while providing comfort and safety.
We currently have one vacancy
______________________
Call today to schedule a tour
416-447-1474 x 233
Cedarhurst Dementia Care Home Copyright © 2016 2601 Bayview Avenue, Toronto, Ontario, M2L 1B5